This aktivitet has passed.
Fotografiens hus – MASKINITAAL
28. August 2021 12:00

-

29. August 2021 16:00
English Further down.
I løpet av Studentslippet har Fotografiens Hus i Oslo to utstillinger: «MASKINTITALL» av Dev Dhunsi 28. og 29. august, og «Storvatn» av GT Nergaard 2. september kl. 18 og onsdag-søndag 12-16 etter det
DEV DHUNSI
"MASKINITAAL" er et pågående montasje-prosjekt hvor arbeidet har oppstått fra flere fotografiske og selvbiografiske kilder, blant annet en lokalavis tilsendt fra Punjab til Trondheim, fotografens eget fotografiske arkiv og gjennom nye skildringer med lys fra dagens tidsånd. En reise uten å komme helt frem.
MASKINITAAL er satt sammen av to ord: Maskin + Taal. Taal betyr rytme i indisk klassisk musikk. Gjennom Maskinitaal-verkene forsøker Dev Dhunsi å si noe om sin egen bakgrunn og oppvekst i det multikulturelle samfunnet i Norge. Prosjektet skal også utgis i bokform etter utstillingsperioden.
Fotografiens Hus består av fotogalleri og bibliotek. I galleriet vises utstillinger av internasjonalt kjente så vel som nyetablerte fotografer i et tett program på rundt ti utstillinger i året.
Det er ingen booking på dette arrangementet. Vis frem studentbevis for å få gratis inngang.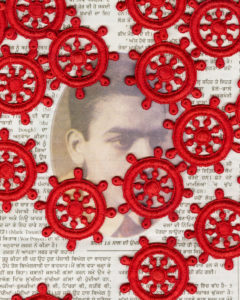 Fotografiens Hus, or House of Photography, can be found at Rådhusgata 20 in Oslo. It consists of photo galleries, offices for the NFF administration, meeting rooms and a library. The galleries have exhibitions by internationally known as well as newly established photographers in a tight program with around 10 exhibitions each year.
Exhibition – Dev Dhunsi, 28th – 29th August
Exhibition – GT Nergaard, 2nd September at 18.00, and Wednesday – Sunday at 12-16.00 after that.
Dev Dhunsi
"MASKINITAAL" is an ongoing montage project where the work arises from multiple photographic and autobiographical sources, including a local newspaper sent from Punjab to Trondheim, the photographer's own photographic archive and through new depictions in light of the spirit of the times. A journey without fully arriving.
MASKINITAAL is a combination of two words, Maskin (machine) and Taal. Taal means rhythm in Indian and classical music. Through the Maskinitaal works, Dev Dhunsi seeks to say something about his own background and upbringing in Norway's multicultural society.
The project will also be presented in book form after the exhibition period.
There is no booking for this event. Show your student ID to gain entry.